I've had my Yamaha R1 since 1998. I was 41 years old when I bought it new. It was my main street ride for 5 years and with various house moves it got used on a few track days and that was about it.
Now some 12+ years later, I figured it was time to dust it off, clean the carbs and ride it. I soon realized, my 56 year old body did not enjoy the riding position, so I bought a set of Apex Bar Risers.
I had to buy new brake lines that were 2" longer than what was on the bike. I had Galfer custom make these.
Same was true for the Clutch cable, but that I over did, getting MotionPro to make me a custom cable 5" longer than stock, I could have gotten away with 3". I also ordered longer throttle cables from MotionPro but found I did not need these, as re-routing the OEM cables was sufficient.
The Apex Bar Risers allow you to custom adjust the height of the bars, the angle of the bars and the position forward or backward. The limiting factor is clearance to the tank and under the fairing when the bars are turned lock to lock.
I managed to raise my bars almost 3" in height and brought them back, closer to me, by about 2". The grips are also about an inch wider on each side.
---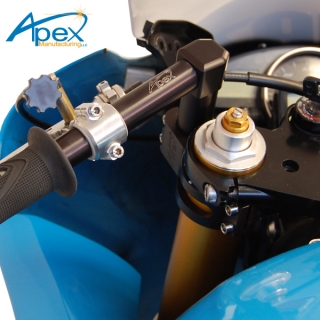 ---
---
---